As you already know, or don't know, or knew once but forgot, or didn't really care to know, or never asked about, or have now heard more times than you ever wanted to, I am student teaching in Washington D.C. and loving (also surviving) it. If you've ever been a teacher, you understand how much is expected of you, how little pay you get (or, if you're a student teacher, how you're actually paying someone else to do this . . . ha, ha . . . *tears*), and how exhausted and overworked you'll be if you're even decently committed to doing a good job. If you've never been a teacher, you're probably one of those people who would say "wow, I have so much respect for you because I would never be able to have that much patience."
True, teaching requires a lot of patience and we have to "deal with" obnoxious teenagers. but what if I told you that I actually love hanging out with teenagers, and patience isn't really the issue?
Let's say you're a history teacher (me right now). You are expected to know more than 7th graders about ancient Greece. Seems simple, right? Not really. You have to be more than a here-and-there history "buff"—nothing short of a master of world history and every other subject taught in 7th grade will do. You never know what strange, obscure, cross-curricular questions these inquisitive learners are going to ask. But even when you're a universal master of content, you have to be an all-around performance virtuoso for the sake of delivery.
You have to be a comedian, actor, and dynamic storyteller to keep distractible and droopy-eyed youths engaged while you give lecture-type instruction. Then, you have to be a camp-counselor level of creative genius to involve musical and kinesthetic activities for diverse learning styles. You have to be an expert in current sociological and multicultural knowledge to reach students from various ethnic and racial backgrounds, political persuasions, and family situations without offending or favoring one over another.
You have to be a psychologist and/or psychic to discern why students behave the way they do in order to correct abnormal or disruptive behaviors in an effective, individualized, and consistent manner. This means you're also essentially acting as a parent of 20-30 different kids all day, every day—teaching them how to behave in society, reminding them of what is and isn't appropriate, and fostering their strengths so they'll to aspire to achieve excellence in every aspect of life. You have to be a respected disciplinarian and loving role model at the same time.
Sometimes, you have to be a doctor. Giving out Band-aids is routine, and deciding whether a headache, stomachache, or any other type of ache is real enough to be exempt from classwork is a daily occurrence. Your college professors don't give you a flow chart for "diagnosing" whether a particular ailment is or is not nurse's-office-worthy, so you make a decision on the fly.
If you want to be even a little bit concerned with preserving the environment, you have to be a computer scientist. Someone who learns and uses new technology and software constantly and can teach 12-year-olds to do the same without spending inordinate amounts of class instruction time. It helps if you're a statistician and spreadsheet whiz as well, because there is no way you're going to be able to make data-based decisions (as you are expected to) without detailed, digitized notes. Let's just throw in that you also need to be an organizational wizard and adept planner, so there's a system and a process for everything before classes ever begin and before a single student walks through your door.
You have to be a little bit of a fashion genius—looking professional when you get up at 5am, are on your feet all day, and run a serious risk of spilling glitter glue/lunch on your blouse is a challenge TLC never prepared us for. And don't forget, your budget derives from a public school teacher's salary. You have to be a sale-shopping barracuda, a matching-colors-in-the-dark guru, and comfy-but-cute-shoe connoisseur.
Why don't we add nutritionist and pro chef to your growing list of titles as well? If you don't eat right, your energy lowers, your performance downslides, and you're fighting an uphill battle. But, again, you only have a teacher's salary and shockingly limited amounts of time at home. Quick, healthy, delicious, can-prep-the-night-before meals are woven into the very fiber of your soul and intertwined with your en-route shopping endeavors. You also have to know that some of your students don't have enough to eat and home and don't eat healthy school lunch, so it's no wonder they can't concentrate in class.
You may also need to be a: life coach. Artist (both in graphic design and whiteboard markers). Mutil-genre-and-time-period music junkie. Musician and fearless performer with an opera-worthy diaphragm. Possessor of YouTube omniscience. Pop culture expert.  I could keep going, but I have to be so good at balancing time-per-concept that I know exactly when to move on to something else.
Independently of all of that, you've got to get in touch with your coolness factor, know where it stands, and nurture it.
By the way—our work days often last around 10 hours, and no, we don't really have summers off (professional development, getting things ready for next school year, and just recovering from 10-hour work days all year long . . .).
So . . . why? Would? Anyone? Want? This? Job?
In the words of Douglas Adams (and Google), "the answer to life, the universe and everything" is 42.
Aaannnnnd nope, I still don't get it. Why does anyone ever want to be a teacher?
It's a questions I've had to ponder lately. some days are long and hard enough that I start to say, "why am I doing this again?" Sometimes I come up with a simple "uh, 42. I don't know. Just gotta get through it I guess."
Then I stop myself, and give Gloomy Glazier a speech from Affirmative Aubrey: If you actually believed education opens doors for the marginalized, enlightens and directs those with many opportunities, and normalizes good citizenship, you wouldn't be asking that question. Remember how you had teachers who changed your entire perspective on life? And how what happened at school was all you talked about? And even though you joke about how you learned "nothing" in middle school you actually remember moments that continue to define you as a human being and woman in this society? Remember how growing up, school and family were your whole life? Well, what about people who don't have much in the way of family, but they still go to school because they have to? You do this right, and you could be everything to them. So stop whining, plan some dang fun and engaging lessons, buy some Band-Aids, and go to sleep cause you have a big day tomorrow.
In the words of the man who proved being a beach bum can pay off after all, Jack Johnson, "Love is the answer at least for most of the questions in my heart."
It's easy to look at the list I've only just written out for the first time but that has always been in my head and feel overwhelmed. It's easy to think I should choose a different career where I won't be tired and I can do more good in the world because I won't burn out. It's easy to see how many ways I fall short as a young, inexperienced teacher and wonder if anything I'm doing will ever make a difference. It's easy to stand in front of a classroom, have a kid raise his hand and ask if he can go into the hall "to pass gas," tell him he needs to wait for a minute, and struggle to maintain composure as he indeed passes gas (loudly) and think to myself through half-swallowed laughter: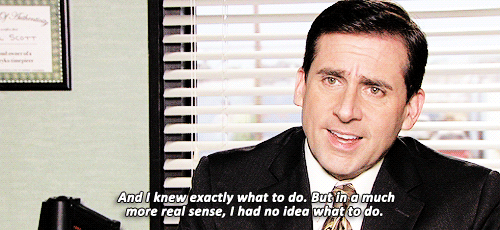 But if I ask myself: do I love my students? Of course! They aren't even "my" students, they're just a bunch of kids I swooped in to teach halfway through the year who have kindly refrained from chasing me out of the building with child scissors (pretty sure no one's managed to get a pitchfork through the metal detectors yet).
Maybe someday I'll figure out what the big secret is behind coming even remotely close to meeting expectations placed upon teachers. For now, I'm OK with just getting through. I'm content with being so incomprehensibly overwhelmed that I know I can't do everything, so whatever I can do is going to have to be enough. And I guess I really am looking forward to having this summer "off."